Team Building Program featuring Working Genius
™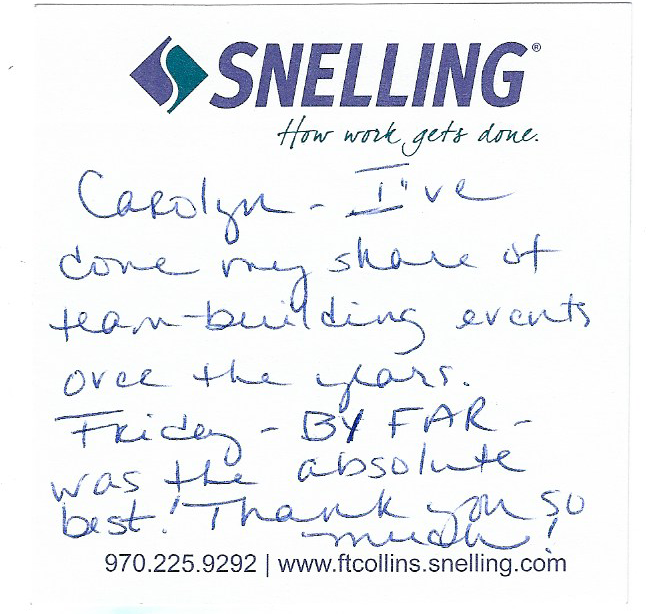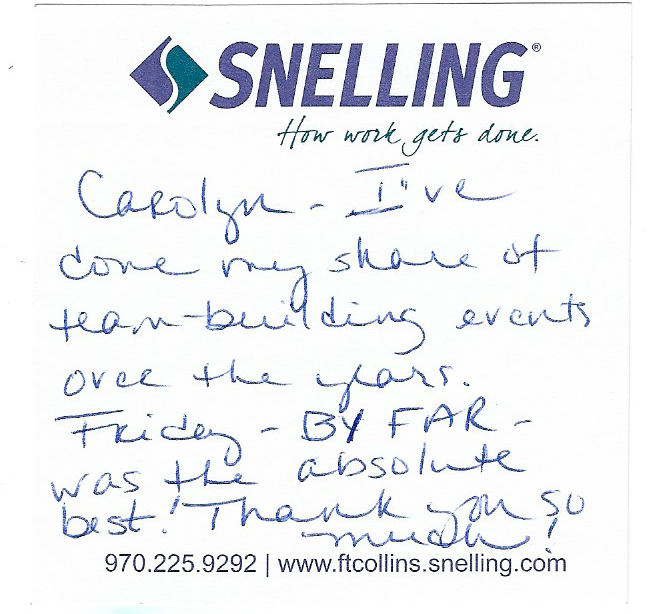 Single or multi-day on site training, Carolyn works with team members to assess strengths, weaknesses, communication skills and strategies to create a work place with increased motivation and cooperation.
This training/ workshop includes:
Creating common ground and understanding of what type of business you are all in
Creating common goals
Assessing each members "genius" and how they can best contribute to the team
Creating and uncovering common language
Assessing the technology needed/ available to help team members succeed
Identifying communication styles for each team member
Optimizing the new "remote/ hybrid/ onsite" workplace
Establishing accountability and roles for each team member
Creating an effective communication schedule for all involved
For more information or to book Carolyn for a Team Building program.
"My team and I had the opportunity to work with Carolyn onsite around the topic SBAR – Situation, Background, Assessment and Recommendation.  The positive feedback that was received from her presentation, and even months later, we absolutely feel her coaching made a positive contribution to our bottom line.  I'm still a work in progress and I look forward to future sessions with Carolyn."
Carolyn works with leaders of companies with 5+ employees to clarify and optimize time, productivity and DPM's (Dollars Per Minute) for each project/customer/ client.
It is crucial to know the status of each project, each team member's role in the project and where in the transaction cycle the project lives. Carolyn has created a Strategic Engagement Process that clarifies and optimizes all aspects of engagement and fulfillment including:
Analyzing current projects

Prioritizing projects, resources and timing

Establishing the status of each project

Identifying who is working on each project

Identifying each person's role and expected outcome

Setting the timing of each project

Establishing accountability for completion and follow up

Creating an effective communication loop for all involved
"Carolyn's guidance on Strategic engagement helped me focus on the end goals for our organization. She helped me articulate and document the steps needed to achieve those goals and aided in the identity of those employees that will help complete each of the major tasks. This process resulted in higher employee engagement and a 'yellow brick' path to our goals. At present we are now #1 out of 147 companies that we compete against on our federal contract. I have no doubt that Carolyn's coaching and strategic engagement sessions has helped us achieve this mark and enabled me to focus only on tasks that are relevant."
For more information or to book Carolyn for a Strategic Engagement consultation.