"Carolyn is super-effective as a speaker in a variety of environments and for various audiences. She has presented multiple times to our company, getting rave reviews and requests for more… Looking forward to another session with her in July!" – Ben G.
"Your presentation and performance was outstanding! Everybody should see you on stage. Your knowledge and advice are priceless. Well done." – Lahat Tzvi (One of the Top #100 World Sales Experts)
Keynotes and Masterclasses available in 45 minute up to half day sessions in person
and virtual
Effective Execution:
Get Work Done Without Killing Your People
As a leader or manager, you request projects and outcomes; but what comes back is surprisingly not what you intended. Your team is clear as to who is responsible for what but they feel an unbalanced workload. Your people use lists to get tasks done but the distinction between a project list and a task list has people wasting time. And imagine another year goes by with things moving as they are, is that good enough?
Execution is not what you think. The key to effective execution lies in the preparation. The more energy and focus you put into the intended outcomes, allocation of resources and gaining of commitment, the faster and successfully any project will come to fruition.
This program is strategically designed to anchor the 8 simple, clear and implementable steps that take the uncertainty out of getting projects done, keeping everyone engaged and energized, and moving companies agendas forward.
*(This keynote / masterclass may be titled to reflect the theme of your conference/ meeting.)
Outcomes
Attendees will get the "EX tool" that will insure everyone knows the when, where, why and who is responsible for any part of any project.
Through this powerful decision-making tool, audience members will leave knowing which projects are important for moving the business forward profitably and productively, and which are just busy-work.
Learn how effectively completing one project before beginning another can help retain and keep the best employees.
Carolyn is a certified WORKING GENIUS facilitator, and she can bring this powerful productivity assessment tool to this program.
Managing People, Power and Priorities in a Changed Business Environment
Most leaders and managers spend their hours at work reacting to demands and requests on their time and attention. Yet there are projects and deadlines that require them to be pro-active. How do you structure your time and priorities to effectively manage your responsibilities? This entertaining and informative session addresses breakdowns around interruptions, communication failures and boundaries, and creates opportunities to optimize time and relationships. After 15 years of delivering this program, all of the content in this program is applicable and practical and will be tailored specifically to the needs of the organization.
*(This keynote /masterclass may be titled to reflect the theme of your conference/ meeting.)
Outcomes
Attendees will get a visual representation of exactly where they are spending their time

Attendees will determine where they are getting ROI and where they are getting depleted

Learn a tool that increases productivity and leads to higher DPMs (Dollars per Minute)

Boundaries around time and attention will be addressed

Tested methods of responding to requests and demands will be explored
Using Your Image for Persuasion and Influence aka Presenting with Optimal Power*
Human beings instinctively make judgements about others based on how they look. Does the first impression you make match what you want others to see, think or know about you? Incongruence or disconnect because of your appearance are obstacles easily overcome with the right guidance.
*(This keynote / masterclass may be titled to reflect the theme of your conference / meeting.)
Outcomes
Enter a room "on purpose" in a way that creates confidence, approachability and a positive attitude

Strategically select wardrobe and use body language to establish a comfortable rapport with anyone

Project a complete image, thereby creating the desired results in both business and personal situations

Incorporate touch into your interpersonal interactions in a way that is non-threatening and facilitates relaxed conversation

Use your image to enhance your ability to earn more DPMs
 Communication Skills for Wicked Smart People*
Subject matter experts need to present ideas and concepts to persuade, educate and inform both internal and external audiences. This program is designed to help experts, "wicked smart people" to better engage and communicate important information and research to Stakeholders and audiences to benefit and move forward the objectives of the company. For more information on this program, go to www.wickedsmartpeople.com.
*(This keynote / training can be delivered in person or on line.)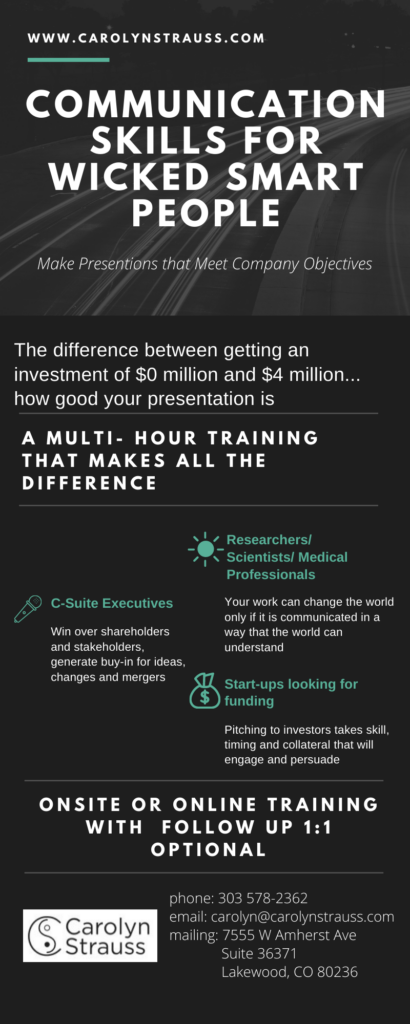 Outcomes
Get a basic overview of why speak
Learn to alleviate nerves
Learn how most effectively to communicate ideas to specific audiences
Create a purpose statement for the presentation
Decide which visuals are necessary and how to engage with them to have the intended impact
Virtual presentations/ Phone and Video conferencing. How to make your message land and relevant